Since filming the post, "Which swimbait should you choose" I've had quite a few questions come in about how to fish the baits as the water cools. Throwing a swimbait in late fall and into winter is very different from the rest of the year. Its no longer about trying to attract big fish from a long distance or about getting them to react to the bait. Instead, your goal is to present a big, slow meal and do it in a way that appears very easy to eat. I'll likely follow this post up with another that shows a simple modification that will allow your baits to kick at slower speeds so that you can more easily target cold water fish.
All of the questions about how to catch these fish inspired me to actually get out from behind the computer screen and head to the lake. Luckily the fish were right where I expected them to be and I was rewarded with a gorgeous Northern California bass. She weighed in at 8.85 lbs and as the video shows, was caught creeping a swimbait along the bottom in 30-35 feet of water. If you watch closely you see me bump into a rock and then she crushes the bait!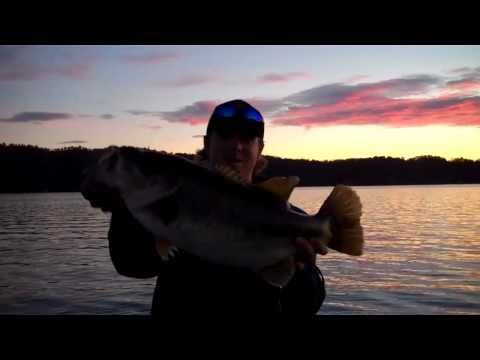 For those of you that live outside of California, this is for you. As you can see, the fish is caught on a trout pattern swimbait that is approximately 8 inches in length. This particular body of water has absolutely no trout in it. The color of the bait has absolutely no bearing on whether or not it gets bit. As long as you are presenting a slow-moving meal, bass across the country will readily engulf it regardless of whether they know what a trout looks like or not.